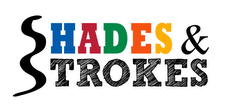 Shades & Strokes is the design consultancy arm of Biz Research Labs where we work with startups and SMEs to help them in coming out with amazing Creative Design, Illustrations, Artwork Design and UX.
At Shades and Strokes, we aim to bring life to your thoughts. Illustrations and artwork can express your ideas in a simple yet creative way. We offer the services of our Illustrators/Designers for custom web and print illustrations and designs. If you are looking for line art (drawings), paintings, logo or mascot, cartoons, character creation for books, print or web, advertising, magazines, corporate identity, design for posters, flyers, websites, mailers, greeting cards, wall art, stickers etc, we have the talent to create unique designs and artwork in the desired style and the most visually appealing way to help you achieve your communication objective. Our aim is to be creative, think beyond and dare to do something different. But if you wish to stick to the tried, tested and the proven, we can still give ideas as long as it makes commercial sense for both of us.
Shades and Strokes also provides professional digital photography services for use in marketing and advertising materials. Product, Architecture, Interiors, Industrial, Location or Web Site Photography are some of the services we provide.